Everything
you need, all
in one place
The smart and simple online solution that goes beyond appointment scheduling.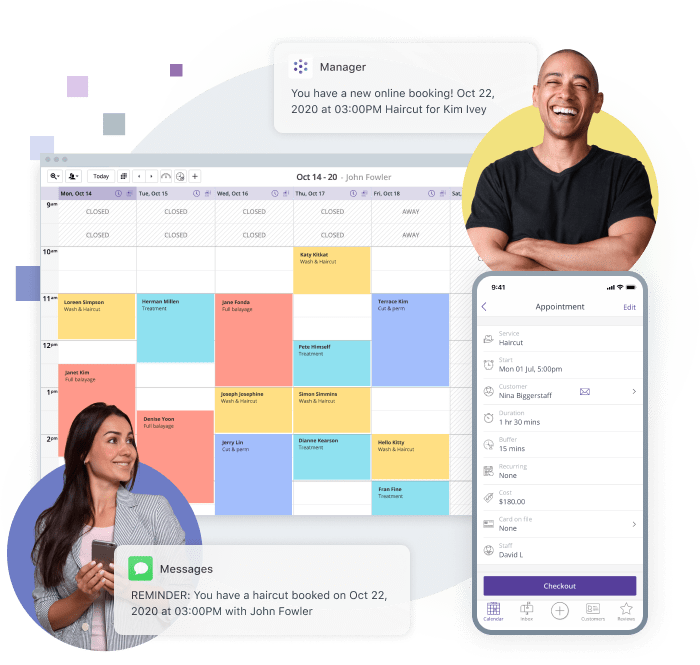 ---
See how we build a better

business experience
Online Scheduling
Gain full control over your business. With Genbook there is no more phone or email tag, long hours and no more long days (unless you want them). Say goodbye to unnecessary stress.
Smart Calendar
The easy-to-manage and intuitive Smart Calendar gives you full control over your business, at any time from any device. Create, manage and optimize your business schedule in one simple click or tap.
See how well you're doing
Genbook's Optimizer gives you a quick view of your daily, weekly and monthly operations, so that you can maximize your revenue potential.
Service clients from any location
Genbook supports up to three different business locations, adapting to your business as you grow.
---
Our clients like to be able to book online and it saves time on phone calls and emails for scheduling. Genbook has made us run much more efficiently.
Gabrielle - Acupuncture & Health Center, CA. USA
Client Management
Say goodbye to no-shows and get ready to attract, convert and amaze more clients!
Client Information and communication
Our built-in Customer Relationship Management (CRM) system provides you with all the insights and solutions you need to ensure your brand experience matches the wonderful service you provide. Say goodbye to lost revenue and reduce no-shows by up to 90% with text and email reminders!
Delight your clients with an effortless booking experience
Make it easy for your clients to book at their convenience. Sell gift certificates, products and delight them with fast and effortless checkout.
---
I absolutely love it and so do my clients. They love the flexibility of being able to schedule themselves and also getting the appointment reminders.
June Allen - Electrology by June Allen, MA. USA
24/7 Real-time Bookings
Connect to Google, Social Media and the Web with zero effort and allow your clients to make appointments at any time, without the risk of double bookings.
Real-time bookings
Never miss a booking again. Genbook connects your business to major search sites, social media, online directories and local apps in real-time so your clients are up-to-date on your appointments.
Reserve with Google
Due to our partnership with Google, your clients can book a service directly from the Google Map website page or app. Getting started has never been more simple.
---
24 hour convenience is wonderful! I can book appointments while I work, in my sleep, and while I'm away! Genbook definitely took my practice to the next level
Trina Jennings - Massage at Snap Fitness, CA. USA
Online Booking Site
Convert your 'lookers into bookers' on your branded, smart web scheduling page by customizing your client's booking experience to match your business.
Simple and secure booking without the booking fees
Our in-built SSL data security ensures the highest level of security for client data and we never charge your clients a booking fee.
Customize to your brand
Customize your BookNow scheduling web page and BookNow button so it reflects your own personal brand and scheduling rules.
Never miss a booking (or payment!)
The BookNow site integrates everywhere including your Instagram or Facebook business page so you convert everytime.
---
Almost every new client that comes in says I love your online booking system and I say "so do I"
Jill McIntosh - Renew with Jill, NY. USA
Reviews and Reputation
Help clients choose you, everytime by automating glowing reviews!
Boost your online presence with glowing reviews
Stand out on the sites that matter by easily collecting hundreds of validated client reviews that automatically integrate with your Genbook online booking page, Google and more.
---
New clients have read through the customer reviews from Genbook that are linked to my Google business page. You can't buy that kind of publicity!
Robb Seal - Premier Bodywork, IL. USA
Smart Marketing
Engage your audience, build loyalty and drive repeat bookings via email templates that connect with your client data and make you look like a pro!
Email that converts
Our beautiful built-in email templates are simple to set up and created by experts to convert! They connect in with your client data so you target the right person at the right time.
Thanks for being a loyal customer
We unfortunately need to cancel
---
Genbook's integrated email feature has helped me reschedule clients quickly, helped me build loyalty with my clients and ultimately, generated $ in bookings!
Janie Smith - Global Aesthetics, OR. USA
Integrated Payment Processing
Take home more from payment and process quickly and securely at any time with Payment Card Industry (PCI) compliance.
Process payments the way you want to and minimize no-shows
Take payments quickly and securely at any time with Payment Card Industry (PCI) compliance. Capture payment information, take deposits or process full payments automatically using one of our payment processing partners.
Service-specific Payments
New Client Credit Card Capture
Offline Credit Card Capture
Point of Sale (POS)
With Genbook's inbuilt Point of Sale (PoS), receiving in-store payments has never been easier. Whether taking payment in full, part-payment or redeeming vouchers - your customers can pay however they want to, whilst ensuring you get paid on time quickly.
---
And with the credit card capture feature, we have filled our books with customers that are going to show up!
Nicole Davis - Salon Ginger, AK. USA
Connections
When it comes to operations, every business is different. We let you decide the resources you need, when you need them - we simply help you connect them.
Connect your personal schedule and tools
Connect your personal calendars, email tools and more.
iCal

Siri

Google

Constant Contact
Connect your preferred payment provider
Take payments seamlessly using your favorite integrated provider.

Stripe

Square
Get found and booked on client booking channels
Take bookings from your website, social media pages and more.
Advertise on Search Engines using your link

Google

Bing

Yahoo
Add a 'Book Button' to your Social Media

Instagram

Facebook
Youtube

LinkedIn

Tik Tok
Add a book button to your website
Wordpress

Squarespace

Wix
Link your booking page to directories

Yelp

Superpages

Citysearch
Business Insights
Have access to the insights you need to run your business like a pro and provide the best experience.
Appointment history
See client appointment history in real-time including relevant notes so that you are able to optimize your experience for your best clients from the moment they walk through the door.
Performance dashboard
Slice your business data by revenue, booking, service or staff and gain insights into everything from the best booking channels for your business to your optimal staffing levels.
Simple
pricing, no

hidden costs!
Plans start from (USD)
for one user with unlimited bookings
Start building a better
business




business

experience today